Kono's Salmon Treats (4oz)
Maybe your dog goes to a doggie spa regularly and has a nightly skincare routine. We won't judge. Just don't forget to include Kono's Salmon Treats in that skincare routine for Omega-3's that support healthy skin and shiny coats.

For each bag of treats sold, we donate 10% of the profits to the medical costs of a featured rescue pup each month. So your dogs can look good and feel good about doing good.
 
---
Key Benefits
Naturally Silky Coats

EPA & DHA omega-3 fatty acids to support a lush, healthy coat. Because dull, itchy coats are so last season.

Immunity Boost

Improves the immune system and keeps pups feeling great.

Inflammation Shrink Gun

Helps reduce inflammation for better joint health and higher pole vaults.
---
Ingredients (single protein)
Salmon, natural mixed tocopherols (types of vitamin E)
Customer Reviews
10/14/2020
Jessica H.
United States
My dog tricks me into giving her these treats!
My dog rarely drools for treats or other foods, but these treats activated the waterworks! She also would pretend to *** throughout our walks to get more treats out of me so it's safe to say she loves these treats!
09/18/2020
Jessica L.
United States
FASTEST snacks to be eaten in our household!
My dog Indie will do anything for the salmon treats, and my shipment came swiftly without any hassle! Can't wait to share with my dog mama friends and spread the word!
09/01/2020
Molly C.
United States
The perfect treat!
As a first timer, the order shipped quickly. When they arrived I was so pleased to see the size of the bag, expected less so winning! The treats are nice and stinky, crunchy, can be in your pockets without leaving residue and yes, the dogs LOVED them! Feels awesome to continue to provide a healthy option.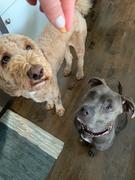 08/23/2020
Melissa V.
United States
Kudos to Kono's Kitchen!
Okay, seriously. Now that we've purchased our first bag of the Salmon treats, there's truly no going back. These are Frank's favorite treats for their "smol but mightly cronch" and my favorite treat as his momma because they are so so good for him but also give back. Win/win situation — "taste good, do good" as Kono says! We love being a part of Kono's pack and will do anything we can to support this woman-owned business with a wonderful mission, product, brand and heart.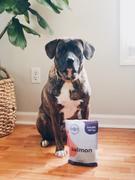 08/16/2020
Natalie B.
United States
Love!
We don't have a dog, but we were able to gift them to friends with dogs and use them to pass out to our neighbor's dog. And they love them!